Three-wheel
Special Utility Scooters
See also: Classic, Basic, High-performance, Luxury, Stand-up Sit-down, Electric, and Minimalist Motorscooters, and mobility scooters.
Note: Nobody seems to be selling these online in the US any more. They are included here simply because they deserve to be part of the US market -- andy they're so cute. They may be available from
Scooters of Seattle
.
Motorscooter derivatives such as these have a long-standing reputation in Asia and Europe. With modern high-efficiency four-stroke engines, three-wheelers have the operating costs of a scooter, with the durability of a truck, and formidable capacity for either passengers or cargo. They are street legal in all states including California! With a top speed of about 40mph, they are obviously not freeway legal, but are ideal for local urban, suburban, or rural cargo delivery or for shuttling visitors to and fro or for giving them a grand tour of gardens, factory, campus, etc.
Made in India and quite popular there, the original design has been improved for the American market with full safety-glass wrap-around windshield, regulation headlights, seat belts, and hydraulic brakes.
The World of Three-wheel Motorscooters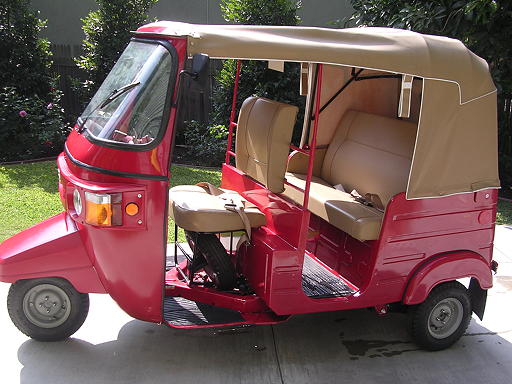 Bajaj Autorickshaw $6,499.00
Shuttle relations, VIPs, or foreign visitors around site, town, countryside in comfort and with a wide-open view of surroundings.
The 175 cc engine delivers 8.5 HP. Seats four including driver. Helmets are not required as seatbelts are provided. Maximum load: 1,052 lbs. Manual transmission with four forward speeds and one reverse.
---
Bajaj Utility Vehicles
Extremely economical, these three wheel scooters are very popular in Asia and are available from DEE India.