The Relative Advantages of Gas and Electric Motorscooters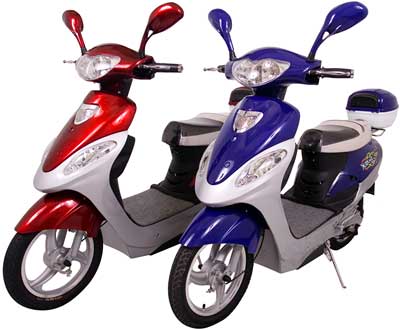 Many, but not all, electric motorscooters qualify as bicycles and may be ridden without drivers license, insurance, or registration -- even in California. Laws differ from state to state, but if yours exempts electric bicycles from motor vehicle requirements, an electric scooter eliminates insurance requirements and may well cost less than half of the annual insurance premium for adding a teen driver to your policy. See Electric Motorscooters.
From the California Department of Motor Vehicles website Motorized Bicycle Electric Motor: Safety and Equipment Requirements:
...A person operating a motorized bicycle is not subject to the provisions of this code relating to financial responsibility, driver's licenses, registration, and license plate requirements, and a motorized bicycle is not a motor vehicle... (See complete entry)
Electric motorscooters, and electric vehicles in general, have certain significant disadvantages when compared to gas vehicles. With a top speed of 17 MPH, a range of about 30 miles, and a required 4-6 hours recharge time, an electric scooter is not a replacement for the family car. --but neither is a gas scooter! However, if one is seeking a vehicle purely for commuting purposes between fixed locations with only local side-trips, an electric scooter could be the ideal solution. Some electric scooters have a top speed of 30 - 50 mph which disqualifies them for exeption from vehicular regulation.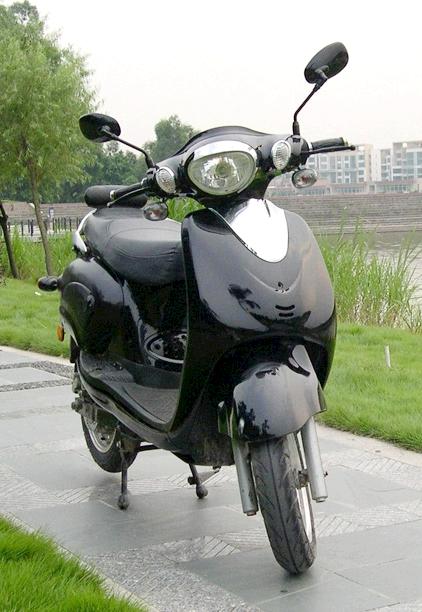 If you have already made the decision to switch a portion of your driving to a high-mileage motorscooter, this is the time to consider whether an electric motorscooter will satisfy your requirements as well as a gas scooter would. Most motorscooters, even those that are freeway legal, are not all comfortable to drive on the highway, and the smaller 50cc Minimalist scooters, with their top speed of 35 MPH, are not freeway legal. Having determined that the scooter will not be expected to carry the whole family at freeway speeds for hundreds of miles, perhaps the step to an electric scooter for commuting purposes is not so unrealistic.
A range of electric scooters is available from Neoscooters. On our electric motorscooters page, we try to list only those currently available but availability can be unpredictable.
.
Advantages of an electric scooter over a gas scooter: Smaller models require no license, registration, nor insurance (check local laws). No gas bills ever. Cost of electricity for 100 miles is about $0.50. Accellerated payback time given the excellent price and gas savings. Environmentally friendly.
Disadvantages: Limited range (15 - 50 miles, depending on model), limited speed (17 - 50 MPH depending on model), recharge time: (4-6 hours)
---
The XM-3500li Electric Motorscooter (or motorcycle as they describe it) is the electric scooter that is made the way all electric scooters ought to be made. Using the REGEN energy regeneration system, the braking process recharges the battery. Recycling the power that is normally thrown away as heat during braking is the ideal way to produce a really efficient vehicle (See Fuel Efficient Driving).
The XM 3500 can go up to 80 miles on a single charge and has a top speed of nearly 60 MPH, making it the equal of many gas motorscooters in range and power. Its maximum load capacity of 400 lbs., exceeds that of all but the largest touring scooters.
Fully assembled. Shipping costs: Just $199.95 door to door anywhere in the continental United States!. Comes in Black and Blue.
Note: Street legal in all states including California.
For those who want more power, the XM 3000 electric scooter can perform like a gas scooter at speeds of up to 50MPH and can carry two people up a substantial grade. It does require license and registration, however.