A World Phenomenon
In Asia and Europe, gas and electric powered scooters fill the streets. "Scooters are really only news to Americans. From Madrid to Madras, the scooter is an indispensable part of a typical street scene, and to urban dwellers in other major European cities, seeing a man or woman riding one in business attire isn't a surprise. But the spread-out cities and gaping highways of the U.S. make the scooter less practical and therefore rarer." (See full article in the Wall Street Journal.)
Scooters have become the predominant form of transportation in many places. Taiwan, with a population of 23 million has 11 million registered motorscooters -- almost one for every two citizens. It is really only in America that large, heavy automobiles are used for even the smallest errands. Scooters have several advantages over cars and motorcycles in both efficiency and convenience, but the American commuter has yet to embrace these advantages fully though inroads are being made. Figures released by the Motorcycle Industry Council show that annual sales of motor scooters have grown every year since 1999, when only 25,000 were sold. By 2004, sales had reached 86,000. Gas prices have continued to push sales even higher.
Economy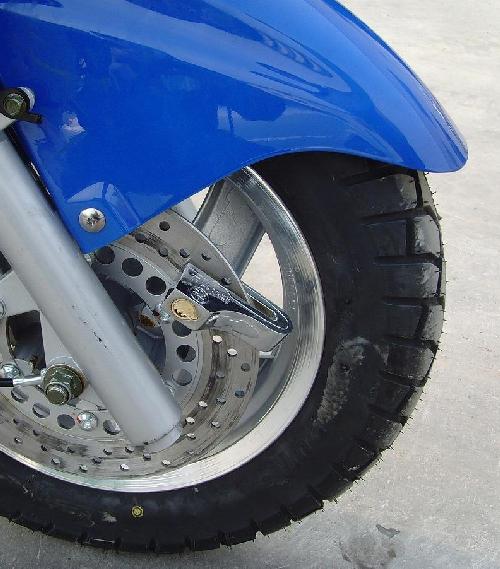 Fuel prices in Europe have always been higher than in the U.S. and have therefore always been more of a factor there. Recently, though, with gasoline exceeding $3 a gallon, this factor is gaining recognition even on the streets of America. Filling the 1 1/2 gallon gas tank of most scooters is barely significant in contrast with that of gassing up an SUV, minivan, or even a car. Our Motorscooter Return on Investment calculator will tell you how much your monthly gas savings would be with various different scooters given the price of gas, the gas mileage you get in your current vehicle, and the length of your commute. It will also will tell you how long it will take for your scooter to pay for itself -- often very quickly with cheap Chinese motorscooters. Even the higher end scooters on the market today are dramatically less expensive than motorcycles and economy cars. See Scooter Economy. Insurance requirements for scooters are usually more flexible than equivalent liability coverage for cars and motorcycles as scooters simply aren't capable of inflicting damage on the same scale as cars and even motorcycles.
Ease of Use
With the manual gearing of motorcycles -- clutch in the left hand and the gear shift operated by foot -- the learning curve for riding a motorcycle is daunting for many. Nearly all modern scooters, on the other hand, use stepless automatic transmissions which require no attention at all from the driver -- traffic, throttle and brake are the only concerns of a scooter driver (See Driving a Motorscooter). Commuting, shopping (short of multiple 12 packs and watermelons), visiting, most simple errands lend themselves easily to a scooter solution.
Splitting Lanes
Together with motorcycles, scooters may proceed between lanes when car traffic has stopped or is creeping along. Even California law specifically permits it: Lane splitting is permissible if done in a safe and prudent manner according to the California Highway Patrol (http://www.chp.ca.gov/html/motors.html).
Cargo Storage
Unlike most motorcycles, scooters generally have a lockable storage compartment under the seat. My TANK also has a lockable glove box in the front and a lockable factory "trunk" that bolts onto the storage rack in back. With room for picnic blanket, helmets, jackets, chessboard, emergency frisbee, and an ever-useful jar of pickled onions, one is equipped for the unexpected contingency, and, as compartments are lockable, one needn't carry one's equipment into and out of department stores, airport terminals, and pubs guarded by humourless unimaginative goons named Eustace. See Motor Scooter Cargo Storage Issues
Motorscooter Codger Appeal -- The Aging Scooterist
Many who drove scooters in the fifties and sixties (as well as many who didn't but would have liked to) are returning to the old dream.
This retro-fascination is clearly demonstrated by the changing demographics of Motorscooter purchase. In 1990, retired people accounted for only 7.5 percent of motor-scooter sales, whereas in 2003, that percentage had risen to 22 percent. The median age of scooter owners increased from 26 in 1990 to 46 in 2003 (The Decatur Daily: Scooting about town).
All-weather Scootering
A scooter is far better equipped for driving -- and staying dry -- in inclement weather than is a bicycle or motorcycle, this largely because the step through design both protects one somewhat and also permits one to wear full length raingear -- generally backward. See All-weather Scootering.
Comfort
Many find scooters more comfortable than motorcycles, at least the small ones. The simple step-in step-out feature also makes them more convenient, especially when one has a large trunk attached over which one would otherwise have to swing one's leg.
Insurance Savings
Motorscooters are more inexpensive to insure than larger vehicles. See Motorscoooter Insurance
Scooter Storage and Parking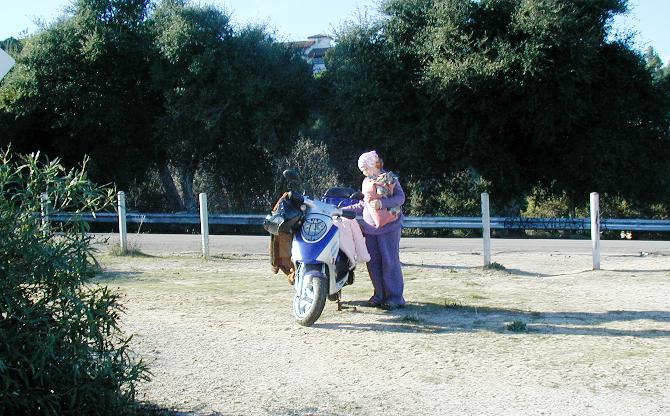 Depending upon local regulations, it may be legal to park scooters in city-sponsored bicycle racks or secured with chains to trees or bollards on the sidewalk. Thus scooter owners can frequently find suitable parking almost anywhere and are less likely to need to walk long distances to and from parking locations. Unfortunately, many areas do no take scooter/motorcycle parking into account which results in very inefficient use of space. See Scooter Parking Issues.
Motorscooter/Motorcycle Safety Issues
See Motorscooter Safety Issues and be sure to read the You And Your Scooter safety manual from the Motorcycle Safety Foundation. It covers all aspects of safety equipment, maintenance, driving techniques, etc.
An expert and experienced motorcycle rider is so comfortable with the complex gear-shifting tasks of his/her vehicle that they probably pose no serious distraction hazards and safety issues. However, this is a level of skill acquired only after much practice. During that practice time required to achieve that skill level, that driver is on the road, fumbling to a greater or lesser extent with the gearing. This fact in itself renders the motorcycle more dangerous to drive, and less likely to be driven on a regular basis by an overwhelming number of people. Driving a motorscooter, on the other hand, requires very little attention from its driver from the very first day of operation. It is much easier to and safer to become an expert and experienced motorscooter rider than a motorcyclist.
Much of the engine and mechanism of a motorcycle is exposed, both exposing the driver to potential contact with hot engine parts and exposing the engine itself to sun, rain, wind, mud, and other environmental hazards such as geese pecking at wires, fuel lines and, cables (yes -- personal experience). The scooter, enclosed with panels as it is, not only minimizes these problems, but presents a cleaner more aesthetic image to the onlooker. The scooter image differs greatly from that of the motorcycle -- in many ways they are antitheses (see motorscooter image).
Another significant advantage of the scooter is the fact that one's legs which, on a motorcycle straddle the vehicle, rest on the floor of the scooter and are entirely within the body of the machine. Unlike on a motorcycle, they are not the first thing to be struck in the event of a collision and one's leg does not necessarily end up underneath the vehicle if it falls over. Of course, injury is still a danger not to be discounted, but scooters have some advantages. (See Denise Ono's article on MSNBC)
The Mermaid-Friendly Vehicle
It has been oddly asserted that the twist-and-go motorscooter is the only mermaid friendly vehicle as no lower-limb involvement is required while driving one and a scooter may be mounted and driven by a being whose lower body is fused to a hroizontal fin. It is understandable that one should consider the needs of even the tinyest minority, but not at all clear whether that holds for minorities approaching zero members. It's also not obvious how a mer-thing might support the scooter when stopped. Nonetheless, this rather obscure motorscooter advantage is included for purposes of completeness.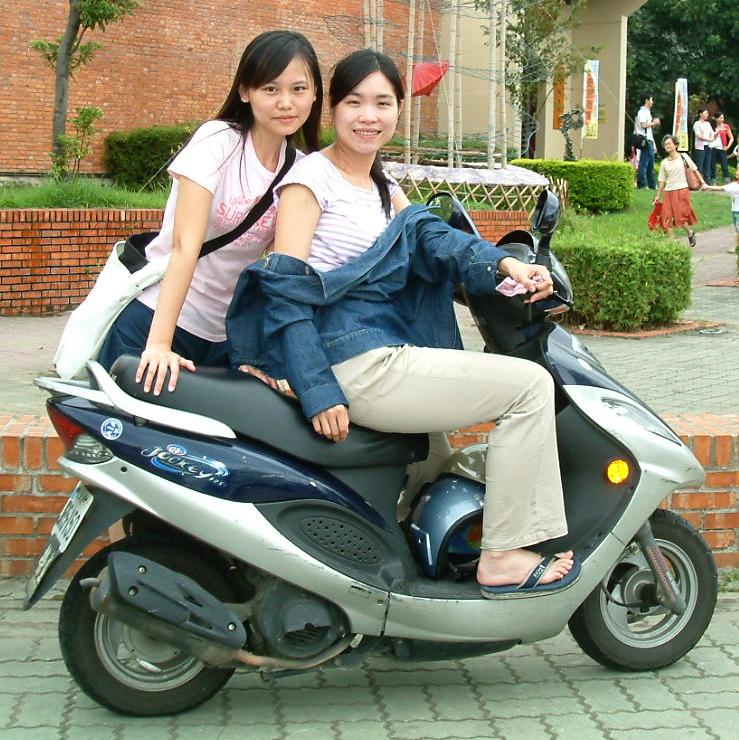 The Motor Scooter Tradition
The motor scooter has a tradition as long as that of the motorcycle (see motor scooter history). In many ways the scooter is an improvement on motorcycles. In some countries, the scooter plays an essential role in coming of age and the dating scene. See Motorscooter Culture and the Dating Scene.