Getting Motor Scooter Parts
Parts for established scooter makes: Vespa, Honda, Yamaha, are easily obtained from those dealers: Vespa USA, Honda eStore, as well as online parts dealers scooter departments such as Motorcycle Superstore. It is for the less expensive imported scooters that parts have been a problem in the past. However, the availability of parts for economical imported Chinese scooters has improved immensely and, thanks to a number of online parts dealers who have responded to the demand, availability is in most important respects comparable to that of established brands. This page concerns parts for Roadrunner, Chuanl, Phantom, and other Chinese scooters that could form the core of a scooter movement in the US, as well as TANK and other discontinued brands for which there still exists a significant need for parts.
Unfortunately, some Chinese motorscooter manufacturers are inconsistent in their choice of parts. Even within the same model year, parts can vary. It's not enough to know the model and year, the CVT belt (see stepless transmissions), the light bulbs, the voltage regulator, etc., may very well be different. Important tip: send a digital picture of the part with your online order unless the supplier is certain that there is no possible ambiguity. .
Parts for Chinese scooters professes expertise in finding parts for Chinese scooters and knowing how to substitute parts. From their website:
Many scooter companies today do not carry parts for the models they sell. They do not fully support what they sell. Our parts website it designed to help the scooter buyer looking for parts for their Chinese scooter. If you don't find your model from the pictures on our website just give us a call. Many Chinese scooters today share a variety of similar parts. We can help you to determine if our parts can work in your scooter.
Parts Pro USA Has a vast, searchable, illustrated online catalog and purports to provide parts for all Chinese scooters. Every scooter part I have tried to search for has been there.
Global Trailer which sells Chuanl motorscooters, carries a complete line of parts. The parts request form is online.
Roadrunner, which manufactures its own scooters in China to Roadrunner USA specifications (See Roadrunner Iscooters), supports its products well, and carries a complete line of parts. See the Official Roadrunner Iscooter Parts Page
TANK recently closed its doors, but I speak from experience when I say that Allpro Scooters (Jacar Motorsports) has been able to find and supply parts even when TANK itself could not. They have also created Parts Pro Direct, a free database of scooter parts houses and repair facilities provided specifically to the scooter community. Unlike Allpro, whose policies vindicate the scooterist's choice of Chinese scooters as practical and economical, some dealers will supply parts only to their own customers.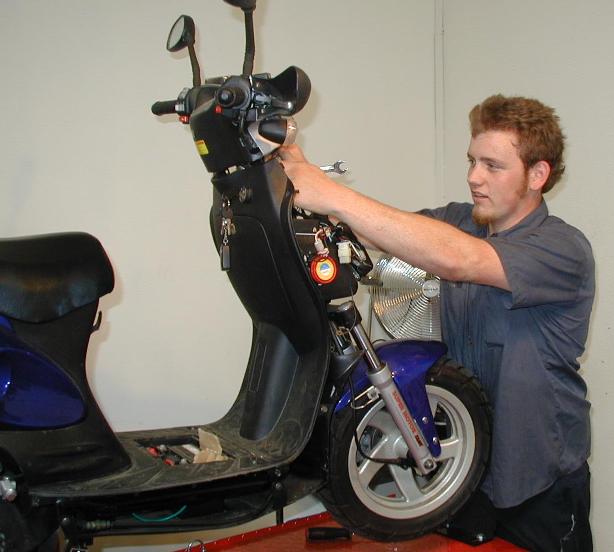 There are several outlets providing fairly complete arrays of Chinese scooter parts. For TANK parts specifically: Scooters Georgia has a page for my TANK Sporty with everything. Other dealers that specializes only in parts for Chinese import scooters:
Extreme Motor Sales. With part illustrations, good pricing, and a growing collection of repair documentation
Parts for Scooters promises to be an excellent resource for Chinese import scooter owners.
In summary, acquiring Chinese scooter parts may a bit more complex than parts for higher end scooters but there are parts houses who know them well enough to solve this problem.