Back to school on a motorscooter.
The quickest and cheapest way for a teen to achieve mobility.
Scooters may require no licensing.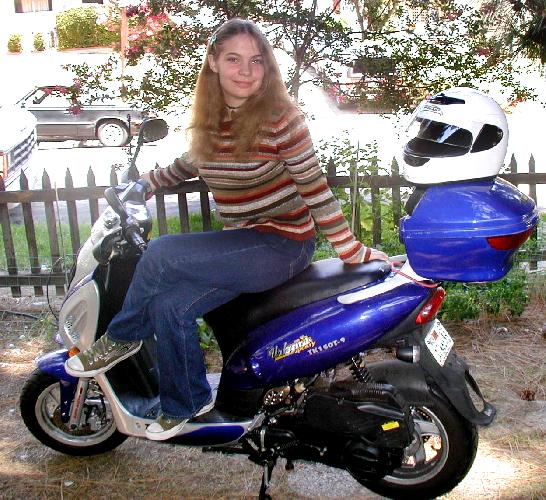 In most US states, motorscooters with engine displacement of less than 50cc may be driven by anyone age 16 or over and do not require licensing (See 50cc Motorscooters). (Note that scooters designated as 50cc, are actually 49cc.) Thse modern engines are actually very powerful and is a vast improvement over earlier models. These scooters are really the only ones correctly designated as mopeds though some dealers use the term to refer to motorscooters of any size (See mopeds). Restrictions vary from state to state, so make sure your state is one that does not require license and registrations of smaller scooters (See State Regulations). California does require licensing with a specific motorcycle endorsement. For commuting California students, we recommend electric scooters which are recognized as bicycles in California.
Unfortunately, in many localities in the US and Northern Europe (not in Italy, however) teen scooterist are not permitted to have passengers. Always check local regulations.
The Best Commuting Scooter
The nature of your commute determines the best choice of motorscooter. An unlicensed 16 year-old driver with a surface-street commute in a state which does not require the licensing of mopeds, would probably find a 50cc minimalist scooter to be the ideal vehicle. 50cc motorscooters are available in many styles (See Minimalist Scooters). One unfortunate characteristic common to all 50cc scooters, however, is a speed restriction mechanism that pevents them from from achieving full power and speed.. If highway driving is required, a larger scooter (requiring license and registration), preferrably a 250cc or better is advisable (See Luxury Scooter and Performance Scooters).
Motorscooter Parking at Highschool or College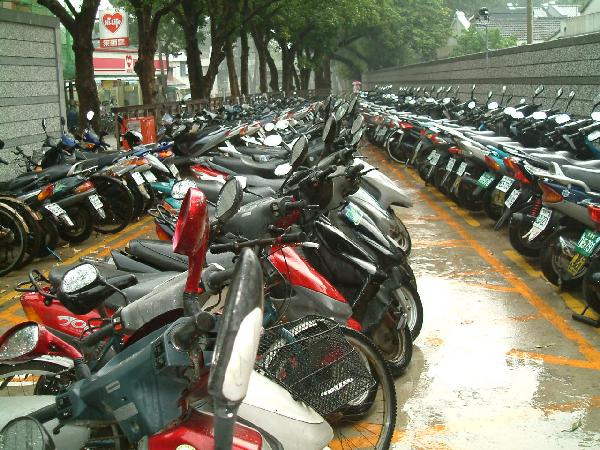 In many colleges, two-wheeled vehicles park free, or for a very reasonable fee in contrast to cars. There is also almost always space for a scooter while car parking in marked slots may well be hard to find and require long walks from the lot (See Motorscooter Parking Issues). Though encouragement of environmentally-friendly low-fuel-consumption motorscooters is practiced in enlightened environments, enlightened buracracies are not necessarily the norm and officious burocrats inimical to any enlightened social and environmental progress abound. See Thirty Year Tradition Ends in Charleston. Liberal arts college abandons environmentally responsible motorcyclists. There is almost always wasted space in every car park and, although a bit of greenery is always welcome, this space is better designated as motorcycle/scooter parking that turned into small plots of Rosemary or Natal Plum, but this is all too rarely done. Short schrift is often given to two-wheeled vehicles as progress in parking for scooters is made and lost. See Motorcycle Club cites parking problems
Recollections of College Commuting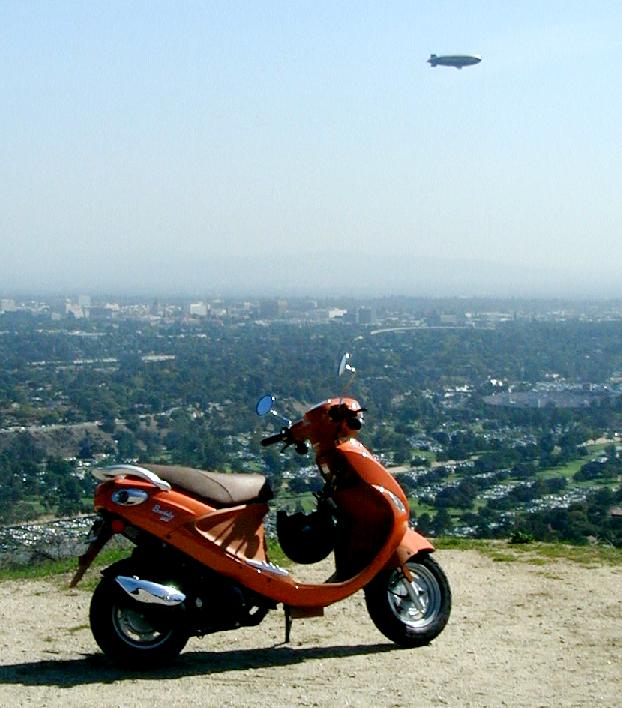 I did three years of college commuting almost exclusively on a little Honda 90cc. Weather was the only downside of this choice, and a knowledge of alternative public transportation was required. A box big enough for a book bag tied on the back rack allowed me to attach a violin case to one side and sometimes a viola case to the other. Modern motorscooters have even more potential for carrying the cargo a student needs. See Motorscooter Cargo Storage Issues.
Unfortunately, in many localities in the US and Northern Europe (not in Italy, however) teen scooterist are not permitted to have passengers. Always check local regulations.