Motorscooter repair shops in the USA by zip code
The following list of motorscooter repair facilities in the USA is incomplete but constantly growing. If you run a motorscooter repair center and would like to be included (or know of one that you recommend), please post a message in our Dealer Forum to that effect to be included in this list.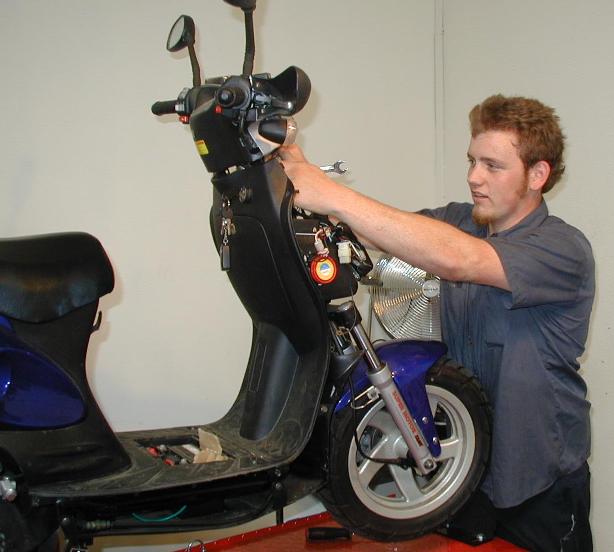 Please always check ahead to make sure that the shop handles your brand of scooter.
Seacoast Sport Cycle (603) 437-5656 208 Rockingham Road (Rte 28) Derry, NH 03038 info@seacoastsport.com
Scooters (866) 503-5902 1471 State Route 9 Lake George, NY 12845 info@scootersnewyork.com
Hy-Pro Scooters - (412) 881-1425 2544 Library Rd Suite 103 Pittsburgh, PA 15234 hyproscooters@hotmail.com
Cornerstone Small Engine Repair (717) 933-1001 5317 Four Point Rd. Bethel, PA 19507 cserrus@yahoo.com
ATL Scooters (404) 607-1110 710 Ponce De Leon Ave. N.E. Atlanta, Ga 30306
Mega Powers Sports, Corp. (800) 917-0633 390 N Beach Street Daytona Beach, FL 32114 service@MegaPowerSports.com
All About Scooters (850) 942-1010 2312 Appalachee Pkwy #10 Tallahassee, FL 32301
Powerandplaywarehouse.com 954-942-5959 550 N flagler ave Pompano Beach, FL 33060 Contact Form Page
Woods Motorsports (423) 239-6686 1768 Ft. Henry Dr. Kingsport, TN 37664
Bills Michiana Moped (574) 848-7111 1007 E. Elkhart. Street Bristol, In 46507
K-Man Auto & Scooters 6125 W Burnham St. West Allis, Wi 53219
Scooter Therapy inc. 9 N. Ingersoll St. Madison, Wisconsin 53703
DeFatta's Automotive LLC (920) 465-9800 1809 Allouez Ave Green Bay, Wi 54311
Absolutely Scooters & Supply (847) 214-5477 168 Center St. Elgin, IL 60120
Tool Store (708) 484-2442 4529 S Harlem Forest View, Il 60402 toolstorechicago@comcast.net
Scooterworks USA 1-888-96-VESPA, 5410 N. Damen Ave., Chicago, IL 60625.
Fineline Cars and Bikes (785) 841-0927 1001 N 3rd st Lawrence, KS 66044 sales@finelinebikes.com
Star Scooter (985) 542-2571 100 E University Ave Hammond, LA 70401 info@starscooterla.com
Tulsa Scooters (918) 747-2668 3024 E. 15th St. the corner of 15th and Florence Tulsa, OK 74104 joe@tulsascooters.com
Blaze Scooters and Motorsports (409) 209-0079 110 West Pace / PO Box 279 Coahoma, TX 79511
Family Auto Center (435) 674-1806 1135 East 700 South St. George, UT 84790
Disturbing The Peace Inc. (310) 396-7555 1920 Lincoln Blvd. Venice, Ca 90291 info@dtp-inc.net

G.2 W T-2 Wheeltuning.Com 626-821-4495 View Ad 124 E Santa Clara St Arcadia CA
G.2 W T-2 Wheeltuning.Com (626) 821-4495 124 E Santa Clara St. Arcadia CA 91006-3237 Motorcycles and scooters. "All brands welcome".
Rucksters (626) 358-6900 12101 Clark St. Ste. B Arcadia, CA 91006
The Scooter Doc. Call Rich, (626) 487-7411, to schedule your next service appointment. House calls in the LA area. Based in Pasadena.
Scooter World (818) 291-0950 1731 S Brand Blvd Glendale, CA 91204 Basic service only.
AllPro Powersports 909-983-6200 1260 W. Holt Blvd Ontario, CA 91762
Scootershop (714) 289-8394 1104 West Collins Ave. Orange, California 92867
Insanebike Sales & Service (559) 217-4020 3455 S. Golden State Blvd. Fresno, CA 93725 Sales@ibmotorsports.com
AEC Cycle (916) 338-4225 3225 Elkhorn Blvd #19 N. HIGHLANDS, Ca 95660