TANK Motorscooters, one Chinese scooter that passed muster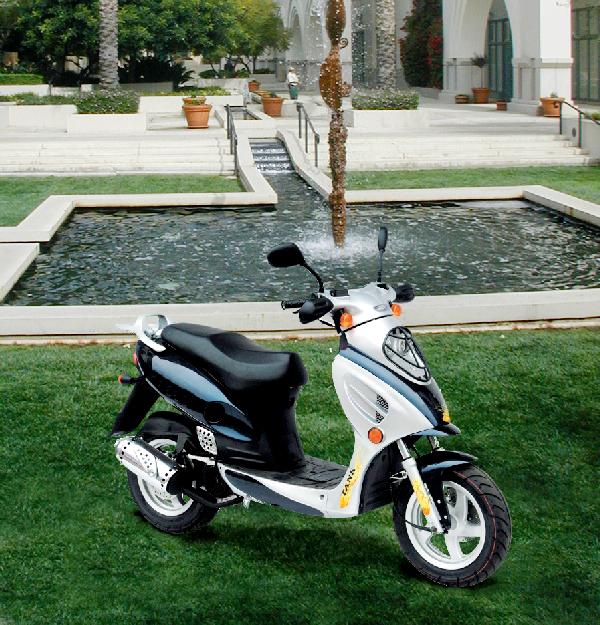 TANK motorscooters closed their doors early in 2010. This was a surprise to everyone and a disappointment to those of us who have been riding Tanks. Parts will still be available for most models however. Even though Tank is out of business you can rely on Partsforscooters.com to provide stock and performance parts for most Tank Scooter models.
Tank Motorscooters were manufactured in China and are made in the same factories as Roketa and Peace scooters. All of these are very similar and, in times of high demand, are often substituted for each other. Such possible substitutions are announced on the page. Unlike other Chinese scooters, TANKs have produced a product which can compete successfully with the higher quality scooters of Taiwan and Japan. See Chinese scooters. (See the TANK video and the almost identical Rocketa Video which show that they are indeed made in the same factory.)
The principal office and warehouse of Tank Sports, Inc., is located at 10925 Schmidt Road, El Monte, California 91733 . Tank Sports Inc. is a wholesaler and does not deal directly with the public. The TANK support page however, has downloadable manuals, a FAQ and parts support email.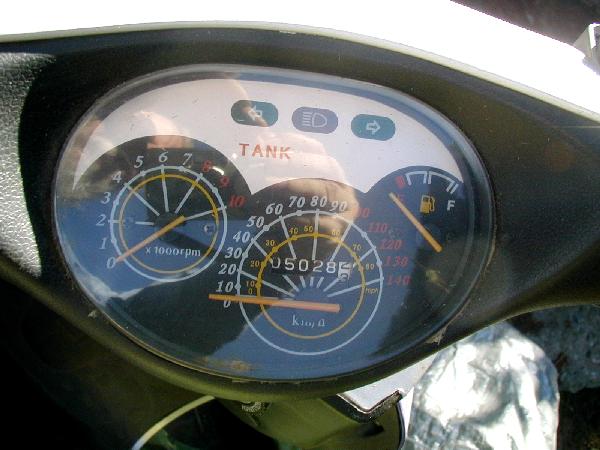 Tank produces scooters in the Basic Scooter, High-Performance Scooter, Minimalist Scooter, and Luxury Scooter categories as well as motorcycles, recreational off-road motorcycles, all-terrain vehicles (ATVs), dirt bikes and Go Karts for affordable prices. Its products are designed and manufactured specifically with American markets in mind and Tank supports these product lines with a comprehensive supply of replacement parts (See Motorscooter Parts) through its dealers and parts-houses in the Americas and Europe. See the Tank Scooter service and repair tips from Stan Jessup's page. The TANK, under various names, has has proven itself in many developing countries for decades.
---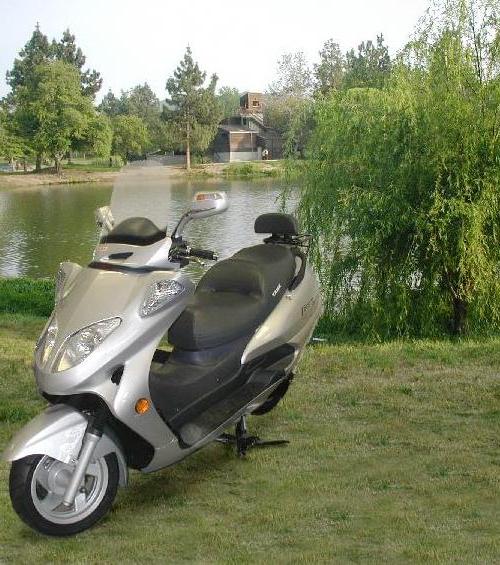 The Touring Deluxe 150cc Motorscooter for under $1,500 . Due to current high demand for this scooter, these touring scooters may come from one of several factories including TANK, Roketa, and NST. These differ only in minor cosmentic respects. The Touring Deluxe Motorscooter currently sells for under $1,500 . This model incoporates comfort into econonomical transportation with windshield, an automatic front braking system, and dual rear suspension for added load capacity. Seats two in comfort with the pillion seat raised for a pleasant ride and improved passenger-seat view. A reasonable translation of the pidgin English manual for the TANK Touring Deluxe Scooter is available online. Comes in Silver, Blue, Black, Red, and Yellow
Locking, weatherproof trunk is included. Some Assembly is required. Having ridden the Touring Deluxe and spoken with a number of owners with nothing but positive experiences, we feel this is a machine with a very respectable quality/price quotient.
Note: Street legal in most states. Not currently available in California.
---
Tank provides an excellent three-year warranty. This is not yet recognized and implemented by all dealers yet though and scooter assembly must me done by a licensed mechanic and the receipt kept -- else the warranty is void.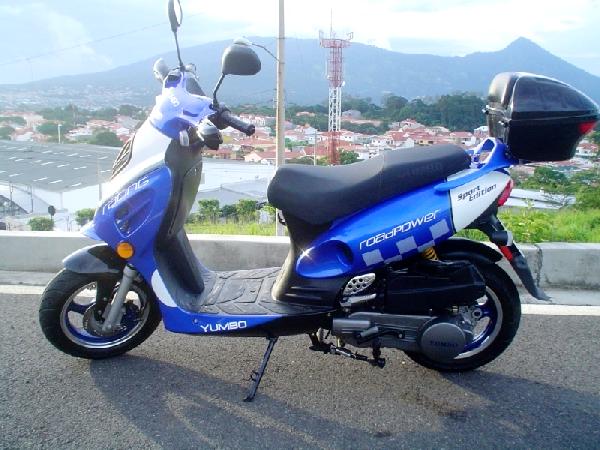 I drive a TANK and am happy with it, though it was very uncomfortable to see Tank close. There is no question that a Kymko or a Honda would perhaps be of somewhat higher quality (even though many of their parts are made in China) but at two to three times the price, those Taiwanese and Japanese vehicles are not likely to be the ones of choice on a large scale -- and the quality of Chinese scooters is rapidly improving to close that gap.
However, for all their efforts in quality control and market focus, one thing Tank has not produced is readable documentation in grammatical English. Their manuals are an abysmal example of clueless illiteracy (see a PDF of the TANK Sporty manual) and even their web pages, though clearly vetted by someone with an education, cannot pass for idiomatic English. Interestingly, one effect of this lack of documentation has been the failure of well designed motorscooter features to please their customers, who simply can't figure out how they work. For example, most Tank scooter owners do not use the sophisticated alarm system that comes standard with their scooters because they don't understand how to use it -- how to disarm it, how to set the sensitivity level (We have managed to figure it out though. See Chinese scooter alarms).
In short, TANK scooters are probably of somewhat lower quality than some other established makes, but at a fraction of the price, that diminishing quality difference is not particularly significant. Until Roadrunners are approved for sale in California, TANK scooters offer Californians the best quality/price ratio.