Scooter Parking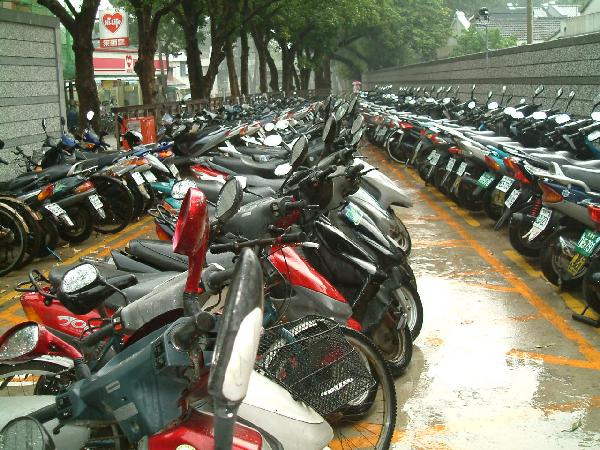 In scooter-enlightened countries, such as Taiwan, parking for scooters is always provided and even when it is full ur unavailable, parking takes place anyway. In what is perhaps the most parking-congested country in the world, there is nearly always room to park a scooter.
Scooter transportation is also significantly more "accurate," in that one is much more likely to be able to park near one's destination rather than kilometers away.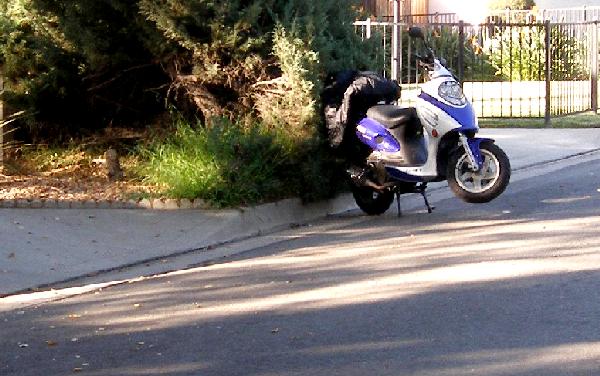 Most states require two-wheeled vehicles to be parked with one wheel touching the kerb. Thus angled, the scooter takes up very little roadside and may easily use space far too small for any car. In most cases is it wise to use the centre stand (see Motorscooter Stands).
Unfortunately, America is not a scooter enlightened country. Even with its motorcycle culture, facilities for two-wheeled vehicle parking in America are scarce. However, there are frequently perfectly legitimate places to park a scooter where no car could possibly fit. Also, it is an odd fact that a scooter parked by a bike rack is much less likely to inspire resentment and recourse than is a motorcycle.
Parking facilities in much of the United States, certainly in California, rarely take two-wheeled vehicles into account. The result is extreme inefficiency and unnecessary congestion. Nearly all parking lots have odd-shaped wasted spaces in the corners and ends of rows that could be allocated to scooters. Unfortunately, the officious nature of predominant regulation tends to prevent the intelligent use of such space, a policy frequently enforced with signs like "Park only in marked stalls." Of course the result of such policies is that each motorcycle or scooter occupies an entire car-sized parking space. With the exception of a few colleges and larger facilities, this tends to be the case throughout California and many other states.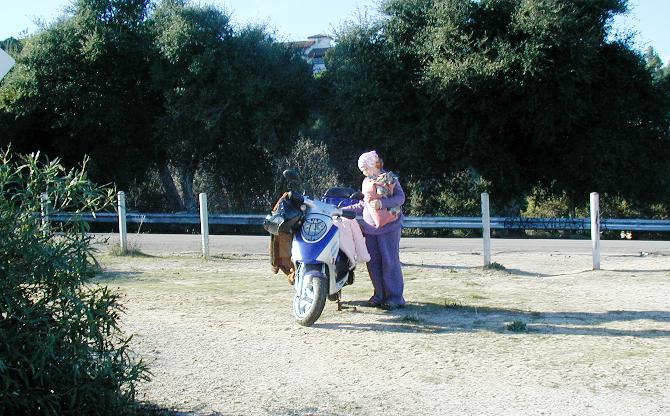 On the other hand, where regulations are enforced by slightly more intelligent and perhaps less anal officialdom, parking space can be much more efficiently used. Scooters can almost always use space that is otherwise unusable. Of course, in a perfect universe, scooter parking should be reserved in an ideal spot with priority second only to that of disabled parking. This of course, due to the superior density of scooter parking spaces, would reduce the overall distance drivers would have to walk to and from the carpark.