What is a Roadrunner I-scooter?
Economical motorscooters with a very good Value/Price ratio.
---
(Many thanks to our forum members for sharing their experiences and pictures.)
The Roadrunner I-scooters offer the best quality/price ratio of any scooters we have found (Note that scooter cover, disk lock, and shipping to the continental US are all included in the prices). Unfortunately, only the 50cc Roadrnner scooters are currently CARB (California Air Resources Board) approved to be registered in California. It always takes longer (and is more expensive) to get new scooters to comply with California CARB regulations (See Legislation-Happy California Shoots Itself in the Ecological Foot).
Roadrunners are intended specifically for online sales and, as such, are sealed in their metal crates to prevent damage and missing parts and are backed by a substantial two-year factory power train parts-only warranty -- with bumper to bumper and extended warranties available. A complete line of Roadrunner parts is available from the Official Roadrunner Iscooter Parts Page. Roadrunner has made serious attempts to solve the problems of construction glitches, shipping damage, and missing parts from which many online scooter brands have suffered, though even with Roadrunner, they do occur from time to time. Shipping is free within the continental US and they ship worldwide for a reasonable additional charge (See worldwide shipping).
Each Roadrunner is inspected and then test driven, and this fact, together with the economy achieved through the online sales model, has resulted in a scooter line that surpasses other Chinese scooters both in quality and price. With their reasonably good service and support including parts availability, the Roadrunner ranks best for overall quality and support. (Honda has used a very similar manufacturing model in having its motors and other parts manufactured in China for many years.)
"I have a bunch of 2 wheelers in my garage and the Roadrunner 150 is by far the easiest and most pleasurable of them all. It doesn't hurt that my wife likes it and can operate it easily. She'll ride on the back of the scooter - not so for the other motorcycles." -- Forum member jafrazer
Unfortunately, it is impossible to test the fuel system completely as fuel may not be put into the gas tank at any point prior to shipping for safety reasons. They are test-driven using an external temporary fuel source instead. Most of the problems new Roadrunner owners have had involve the fuel supply -- it takes some time and a full tank to get fuel through the system for the first time. There have also been problems with fuel line kinks and connections.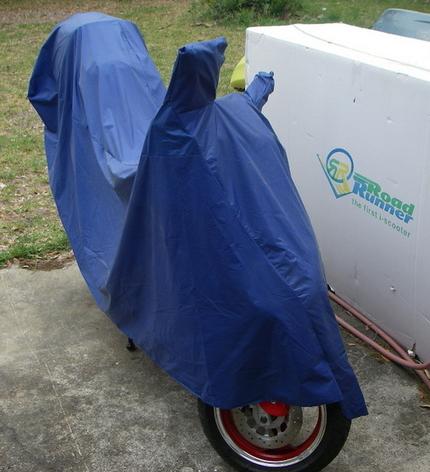 Roadrunner has vastly improved the quality of scooter packaging with its i-Scooter line to minimize shipping damage and provide factory support and substantial warranties. Despite all these efforts, some minor problems still get through and online support can't equal that of a responsible local dealer. Reports speak very highly of the support that Roadrunner has provided however, and they have been very good about addressing these issues.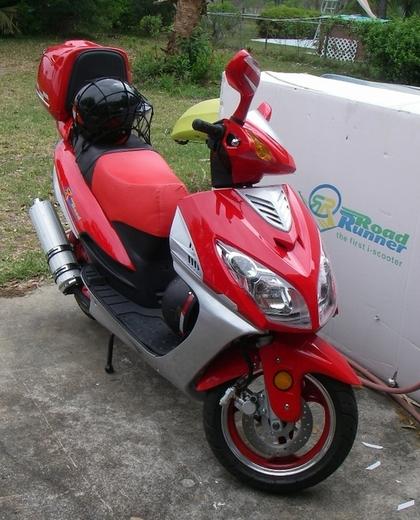 All Roadrunners come with scooter cover, disk lock, and remote alarm and starter. Many also include an mp3 player, and an oversized rear trunk. Roadrummers have been out for a couple of years now and their track record is prdedominantly positive. Though most owners seem very satisfied, a single unsatisfied customer with a headlight adjustment problem (as it happens) can post more than a dozen satisfied ones, and this nust be taken into account when evaluating reports. Many people feel that, if one buys a scooter in this price range, and headlight adjustment is the worst problem to arise, it's a pretty good deal. These are clearly not the highest quality scooters in the world (see Vespa motorscooters), just good quality for a rock-bottom price.
Shipped preassembled, setup is minimal -- attach the rear-view mirrors, connect the sealed battery, add gas, and go.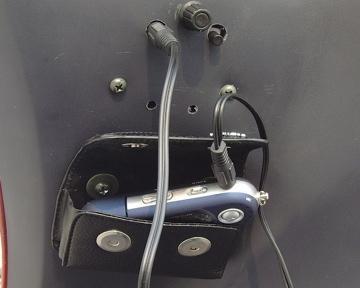 Note: though the larger Roadrunners can not yet be registered in California, they are legal in all other states and are legally drivable in California if registered elsewhere. They can also be shipped worldwide (See worldwide shipping).
Have a look at all the new RoadRunners. They appear very impressive!
---
Available Roadrunner Motorscooters
---
This new 3.3HP 50cc RoadRunner model has front ABS disk brakes, does 35-40MPH and gets an amazing 102 MPG. Trunk and raincover are standard but there is no alarm. Covered by a 2 year power train parts warranty. Gas tank capacity is 1.5 gallons, a good size for this size scooter (unlike the tiny tank on the TANK Sporty) It would be hard do find a better deal and take note: The maximum load is given as 300 lbs! More than many minimalist scooters. This scooer can carry two people.
The RoadRunner 50cc Economy Moped is an i-scooter, intended for online sales (see i-scooters).
Comes fully assembled. Estimated time to unpack and set up: 10 minutes. Comes in Silver, Burgundy, Purple, Black, Yellow, Pink, smf Blue.

Note: Street legal in all states INCLUDING California.
---
Note: Roadrunner 250cc Motorscooters are not yet legal in California.
The flagship of the Roadrunner fleet. With 16.6 horsepower, the Road Queen has a Maximum speed of 80 mph (130 km/h) and gets an estimated 60 MPG (3.9 Liters per 100km). The liquid-cooled 250cc engine uses 89+ octane fuel only. With a 180 kg (400 lb) carying capacity, the Road Queen rides comfortably with two people and luggage. Trunk, alarm with remote, disk-lock, weather-cover, and built-in speakers with an AM/FM CD player are standard.
Time given to uncreate and assemble (attach windshield and mirrors, install battery) is estimated to be 25 minutes. Note: some of our forum members find that it takes a bit longer than that. Also, uncrating does require two people. 24 months power train parts only manufacturer's warranty.
Extended warranys are available: 36 months power train parts only, $69.99, 6 months parts wheel to wheel, $99.99, 1 year, $139.99.
Available in Black, Deep Red, Silver, and Yellow.
---
For use with vegetable based e-juice or carbon dioxide extractions. Does not support propylene glycol based e-juice.
DabaDabadoo Advance Portable Vaporizer
Lowest price online! Compare at $60
Free shipping!
6 months easy repair or replace warranty!
Some may be fooled by the cheap price of this complete vaporizer pen kit but the fact is it's high quality made in the same factory as the more expensive brands with mostly interchangeable components. Technology does not always have to come at a price.
This vape pen delivers an easy, rich pull and clear taste. No more messy clogged bowls, burned out filament or lost lighter. You can pay $60 or more for the same thing, you just have to ask yourself why? Enjoy your smokeless smoke without stressing your wallet with this discrete, clean and portable vaporizer pen. Various adapters are available to allow wax and dry herb and completely customize the unit.
Features:
Complete kit ready to use, just add your favorite e-juice or extract
Advanced heating element at top of wicks
Easy switch universal 510 thread
Flower / dry herb and solid oil / wax attachment available
CE4 atomizer / clearomizer 1.8ml capacity (400 puffs)
650mAh battery (up to 750 hits on one charge)
4.2 volt USB charger included
Silicone upright stand included
Easy 5 click on/off operation with confirmation light
Overheating warning light
Comes in gift box
6 months easy repair or replace warranty
Free shipping in the continental US
Free lifetime email technical support
For use with vegetable based e-juice or carbon dioxide extractions. Does not support propylene glycol based e-juice.
Available in Black, Red, Blue, Stainless.