Classic Design Motor Scooters
The fascination with classic scooters of Vespa and Lambretta has never really disappeared, though it has peaked at various times.
See also Basic, Stand-up/Sit-down, High-Performance, Minimalist, Luxury, and Electric Motorscooters, and mobility scooters.
You don't have to make the decision alone! There are several scooter forums listed on our links page where you can learn from the experience of others and offer them yours.
Modern inexpensive variations of classic scooters are now being made to mimmic the classic Italian designs at a fraction of the cost. The two-stroke engines and manual transmissions of the early models have now given way to more environmentally friendly four-stroke engines and the manual shifting mechanisms have been replaced by modern CVT automatic transmissions.
Note: Many motorscooters are not available in California (See California Legal Scooters) due to local restrictions, but are legal in other states and some ship worldwide (See International Orders ). See state legality indications on each scooter. We try to keep these current.
---
TaoTao CY50-B 49cc Gas Automatic Scooter Moped w/ 10 Inch Steel Rims! This scooter has all the basic features that you need to ride on the streets: - Blinkers - Headlights high/low beams - Mirrors Limited Warranty: 6 months warranty for internal engine parts of on-the-road vehicles, 3 months warranty for internal engine parts of the off-road vehicles, and 30 days limited manufacturer's warranty for all other parts. This scooter may not meet California CARB reqirements. Please consult your local DMV before purchasing.
Seller Warranty: 30 Days warranty for Parts ONE YEAR Warranty for Engine and Transmission. * Accidents, Abuse, Labor and Mechanic NOT covered. ** Shipping NOT covered.
Shipping Weight: 100 pounds (View shipping rates and policies)
---
(RR150CSI 150cc Classic moped i-scooter by RoadRunner) RoadRunner has come up with some fascinating classic scooter designs and those designated as I-scooters are specifically intended for online sales. There is very little assembly necessary (mirrors, battery, gas it up and go). These are legal in all states except California. The new RoadRunner classic scooter has front ABS disk brakes, but rear drum brakes, and such a brilliant design. All units have been test driven. On Sale for Less than $1050 with free delivery in the continental US, the RoadRunner Classic clearly has the best quality/price quotient to be found anywhere for a 150cc classic design scooter. Includes alarm with remote and free tech support from the manufacturer including a 24 month power train parts only warranty with several extended warranty options. Comes in Silver, Purple, Yellow, Pink, Blue, Deep red, and BLack.
Note: Street legal in all states but California.
---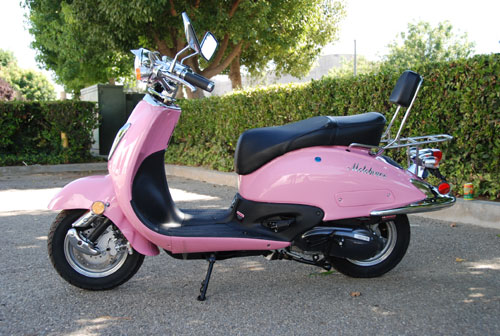 The iconic Italian classic design! Very close in appearance to the classic Vespa scooter Gregory Peck and Audrey Hepburn rode together in Roman Holiday (See Motorscooter Image), the Sicilian 150cc follows closely the classic Italian scooter design, with headlight mounted on and turning with the steering column, and all engine parts enclosed in panelling. Disk front brakes; drum brakes in the back. Oddly, though the illustration is very pink, pink is not listed as one of the color options, though apparently, there are more colors available.
The Sicilian 150cc is sold by Global Trailer, which has been selling scooters for over five years and has deserved a reputation for quality and support.
Fully assembled. Residential delivery is an added $30. Comes in Blue, Black, Silver, White - additional colors available.
Note: Street legal in all states but California.