Buying a Motorscooter Online --
Safe or Silly?
Many would-be scooter riders fear that buying a scooter online is a very risky business, that it is too easy for online distributors to ignore customer queries, complaints, and problems. This impression is often strongly encouraged by brick-and-mortar dealerships. The reality of online scooter purchasing is another story.
Yes, there are unscrupulous online dealers who ignore their customers but one can get a pretty good concept of which ones provide reasonable support by reading the postings of our online scootering community. There are also options such as Buyer Guardian which manages vehicle purchase transactions to reduce the risk of fraud when buying a motorscooter, car, truck, SUV, motorcycle, boat or RV online. For low-end motorscooters, however, Buyer Guardian's prices might prevent it from being an economical choice.
Why Buy Online?
Very simply, online scooters are cheaper, often much cheaper, than those purchased from a dealer. Online dealers have much lower overhead than traditional dealerships and this is reflected in the price. Also, most high-end scooter makes refuse to deal online as that would undercut their dealer network. The result is that the price advantages of online scooter purchase are simply not available for established high-end makes including Honda, Yamaha, Vespa, etc.
Know Your Online Dealer
There are online dealers who have generated bad reputations and their behavior has been noted in online scootering forums. There are other dealers who have good track records and many satisfied customers. Which is which becomes fairly clear from the personal experience of scooter owners. Unfortunately, no dealer is able to satisfy all customers and a single dissatisfied customer can (and sometimes does) flame much louder on the net than a dozen satisfied ones. Always consider the tone and maturity of the posting when researching a product. We have tried to find and feature scooters from some of the better dealers.
Maintaining Scooters Purchased Online
Another major fear, for those who do not work on their own vehicles, is that it will be hard to find a mechanic to work on a scooter that has been purchased online. The first thing to note is that scooters, in general, are very simple to work on. We have found a number of local mechanics who are willing to work on scooters (assuming that parts are available) and, in all probability, there are few places where a mechanic cannot be found who will work on them, though it may not always be economical so to do. See Motorscooter Repair Issues.
Scooter Parts Availability
Parts for scooters are available online, usually with 24-48 hours delivery. See Motorscooter Parts.
Yes, it is probably silly to buy online from a dealer one knows little about. On the other hand, with so many scooterists who are satisfied with, and enjoying the scooters they have purchased online, it is hard to take all of the disparagement of online scooter purchasing seriously -- and there are some great deals to be had. See Basic, Classic, High-performance, Luxury, Minimalist and Electric Motorscooters. Scooters and dealers featured are those which have proven themselves to the scooter community. Be sure to visit Our Scooter Forum to discuss questions and insights with other scooterists. If you do purchase a scooter, please share your experiences for the benefit of others.
Types of Scooters Available Online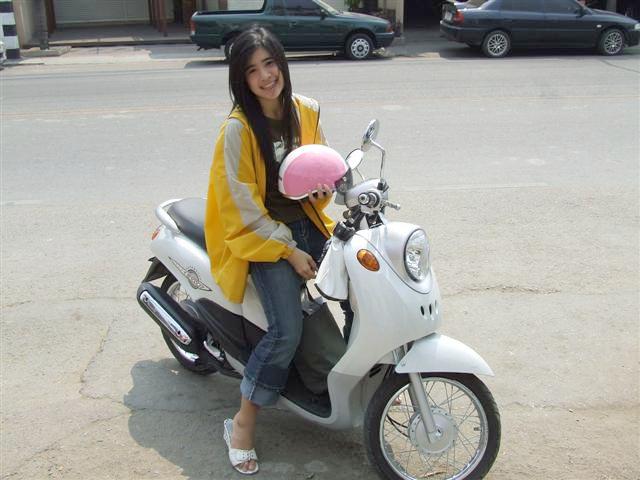 Most motorscooters sold online in the USA are of the less expensive type and are probably manufactured predominantly in China (See Chinese Motorscooters), although higher quality Kymcos (Taiwan) and Bajajes (India), are also available. Inexpensive scooters sold in developed countries may be harder to maintain simply because the cost of professional maintenance in the USA or Europe (commonly greater than $50/hour) is so great in comparison to that of the scooter itself, that large scale or extensive repair is often rejected in favor of replacement. In the developing world, where Chinese scooters have reigned for much longer, repair (often at less than $5/hour) is much more economically feasible, particularly in the long term. See Motorscooter Repair.
Is the Scooter World for You? and which type?
A Chinese scooter can be the ideal solution for someone looking for cheap transportation. Though quality has improved a great deal, they are not the equal of Vespa, Piaggio, Honda, or Kymco, but they are much cheaper. The quality/cost ratio of some Chinese scooters is excellent and many of us have been riding and enjoying them with enthusiasm. One will inevitably encounter problems from time to time with any machine. A high quality expensive motorscooter will probably be a bit better quality but is a more substantial investment. See Types of Scooters, and whatever scooter you decide upon, welcome to the scootering world and the very best of luck!