Motorscooter Inspired Vehicles
A three-wheeled scooter becomes quite a different beast than a standard scooter. It can carry vastly more cargo while remaining stable and, in many states, requires to special motorcycle licensing.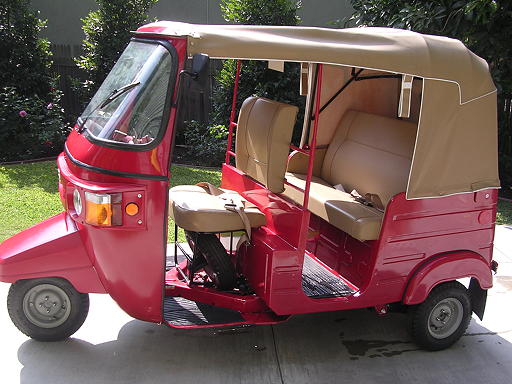 If one is a non-freeway driver (and most scooterists are), there is a class of scooter-inspired vehicles that can legally carry a family of four on California streets and still get 80 -100 MPG! This three-wheeled 2005 Bajaj Auto Rickshaw uses a 175cc engine and can do 38mph with 4 people (See Passengers on a Scooter). It has a 4-speed transmission with one reverse gear. As it has seatbelts, no helmet is required. Fully legal in California, it will no doubt attract attention. Three wheeled panel vans and pickups are also available. See Three-wheel scooters.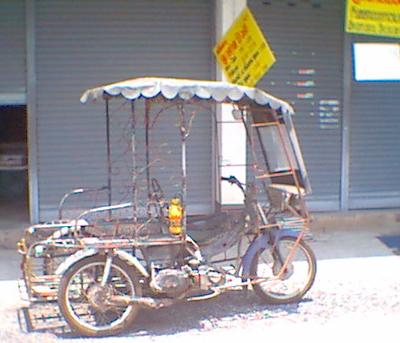 Hand-made scooter-based vehicles are found the world over, wherever excessive regulation has not destroyed creativity. A scooter is a great place to start when constructing an ad-hoc economical vehicle.
It is perfectly possible to redesign a scooter to haul substantially more than can be accomodated in most cars, and at a fraction of the cost (See Three-wheel scooters).