Our Recommendations of reliable
Inexpensive Luxury Motorscooters -- Best Prices on the Net.
See also: Classic, Basic, High-performance, Minimalist, Stand-up/Sit-down, and Electric Motorscooters, as well as California Legal Motorscooters and mobility scooters.
---
The Touring Scooter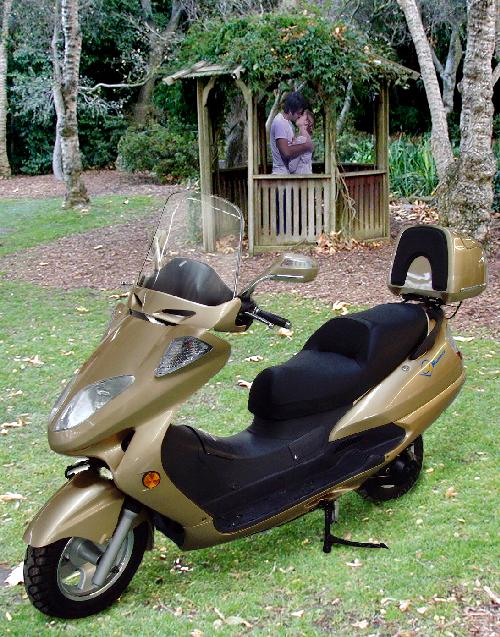 Whether commuting to downtown LA, roving the Pennines in Yorkshire or slipping through the olive groves of Tuscany, the touring scooter, with it's image and comfort is ideal for two people.
---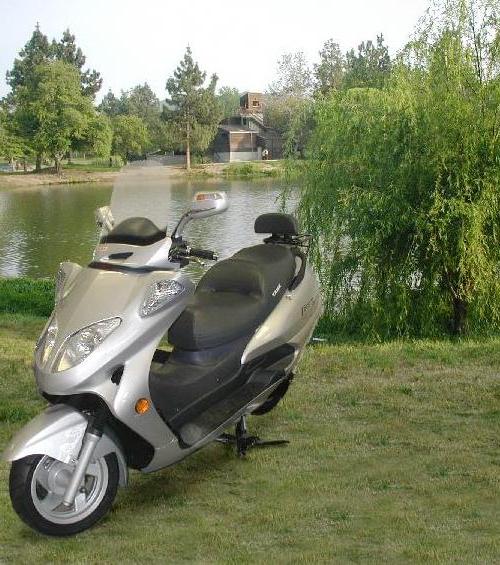 The Touring Deluxe 150cc Motorscooter for under $1,500 . Due to current high demand for this scooter, these touring scooters may come from one of several factories including TANK, Roketa, and NST. These differ only in minor cosmentic respects. The Touring Deluxe Motorscooter currently sells for under $1,500 . This model incoporates comfort into econonomical transportation with windshield, an automatic front braking system, and dual rear suspension for added load capacity. Seats two in comfort with the pillion seat raised for a pleasant ride and improved passenger-seat view. A reasonable translation of the pidgin English manual for the TANK Touring Deluxe Scooter is available online. Comes in Silver, Blue, Black, Red, and Yellow
Locking, weatherproof trunk is included. Some Assembly is required. Having ridden the Touring Deluxe and spoken with a number of owners with nothing but positive experiences, we feel this is a machine with a very respectable quality/price quotient.
Note: Street legal in most states. Not currently available in California.
---
Note: cannot yet be legally registered in California. See California Legal Motorscooters.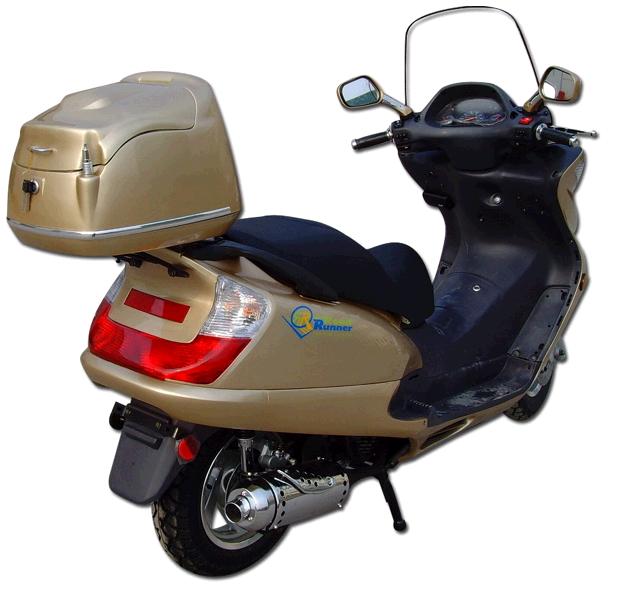 The 250cc Touring Scooter from Peace has a water cooled engine capable of freeway touring at 75 MPH. With a maximum load capacity of 400 lbs., the Touring is the scooter choice for riding together. Underseat storage and included rear trunk are very capacious. Seating is comfortable with raised pillion seat for passenger comfort and view. Has front disk ABS brake and rear drum brake, with adjustable suspension in rear to acommodate differing loads.
Available in deep red, black, blue, silver.
---
Note: Roketa 260cc Motorscooters are not yet legal in California.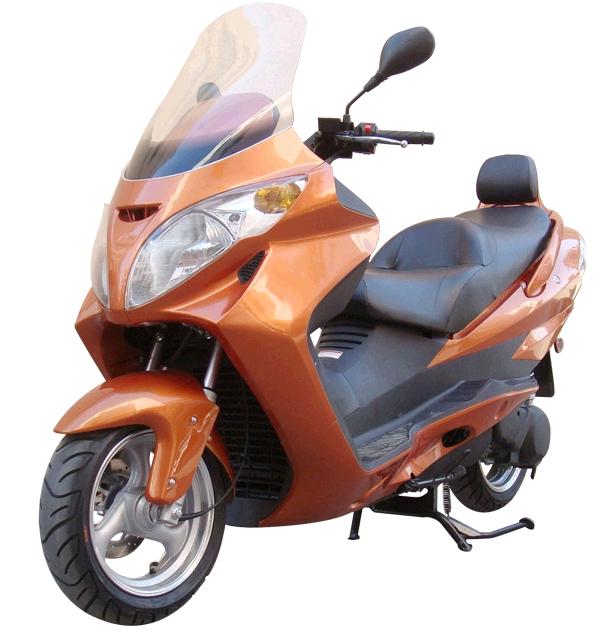 This is the powerful new Roketa freeway model. With its 20HP 257cc liquid cooled engine, the Viper is the most powerful scooter in its class and can cruise comfortably at freeway speeds. The fastest scooter available from China, the Viper has shown itself to have impressive accelleration and to be extremely stable at high speed. With a maximum load rating of 450 lbs., it is also the best equipped to carry two people with luggage of any scooter available. Delivered virtually fully assembled, setup time is estimated at 45 minutes and unvolves uncrating, installation of front wheel, mirrors, trunk, windshield and battery. Available in orange, black, red, and silver.
Available in all states but California
---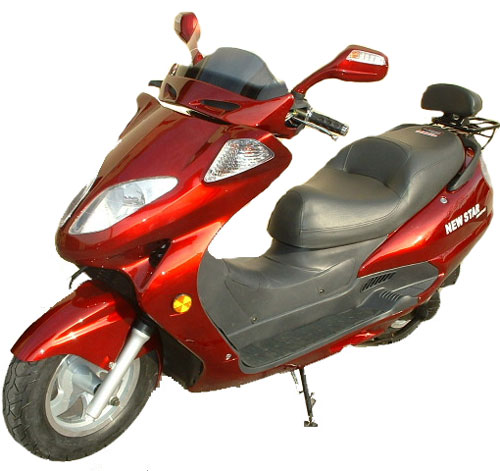 The GT Sport 150cc by Chuanl is rated at 12HP, far more than comparable scooters. The 330lbs carrying capacity, however, is less than that of other luxury touring scooters. Disk front brakes; drum brakes in the back. .
The GT Sport 150 comes from Global Trailer, which has been selling scooters for over five years and has deserved a reputation for quality and support.
Fully assembled. Residential delivery is an added $30. Comes in Red, Black, Silver and Blue.
Note: Street legal in all states but California.
Shipping is included in above prices.

Some Assembly is required. Having ridden the Touring Deluxe and spoken with a number of owners with nothing but positive experiences, we feel we can recommend this excellent and very affordable machine.
The Honda is of course legal in all states and supported by dealerships all over. Find a local Honda dealer. If you can afford it, there isn't a better luxury scooter to be found anywhere. The 250cc Honda Helix gets 60 MPG, has a capacious trunk that does not protrude above the body and the longest wheel base of any scooter.