Classic Motor Scooters
The fascination with classic scooters has never really disappeared, though it has peaked at various times. Vespa celebrates 60 years and Lambretta has started up again.
Even though modern inexpensive scooters are now being made to mimmic the classic Italian designs (see inexpensive classic motorscooters), the original companies are also relaunching modern versions of their original classic machines.
Italy is the mother of the motor scooter with the classic scooters of Vespa and Lambretta (See Motor Scooter History). The two-stroke engines and manual transmissions of the early models, however, are likely to suffer a demise in the face of evolving emissions requirements and twist-and-go transmission technology (See Stepless Transmissions).
Nonetheless, in commemoration of its 60th anniversary, Vespa introduced the new LX line last year, and Lambretta has announced a return.
With movies such as "Roman Holiday" in 1953 and Felini's "La Dolce Vita" in 1960, scooters fascinated American enthusiasts (See Motor Scooter Image) and became a fashion statement in the 50s and 60s with the British "mod" movement, in addition to playing a role in low-cost utility transportation.
After the Italian scooter heyday, sales declined and Inocenti closed its Lambretta factory in Italy, though they continued to be produced in India for another decade.
Emissions standards, with which the two-stroke engines did not comply, forced Vespa out of the American market in the 80s. With subsequent increased emission requirements in Europe, Vespa has been forced to comply, thus reopening the US market as well. Sales continue to increase.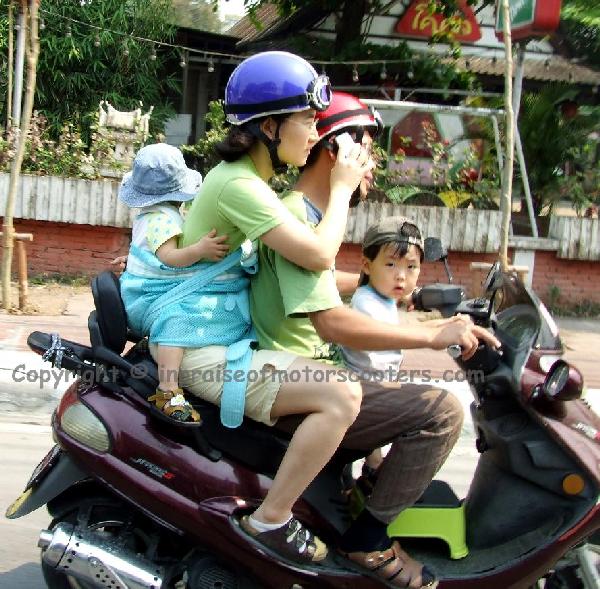 The new LX Vespa, like the ET and GT before it, uses a four-stroke engine which complies with all emission standards. They also use automatic transmissions, unlike the early classic machines. Classic scooter enthusiasts deplore this development but, though production of an emissions compliant two-stroke engine has been considered, and studies are being done to determine whether there is an adequate market to justify a model with a manual transmission, it appears that four stroke engines and stepless automatic transmissions are what will be found in the new wave of "classic" motor scooters, though some scooter purists may despute the "classic" designation of such machines. The Vespa PX 150 with its two-engine and manual shift is likely to be the last of its kind as it does not meet California emissions requrements and will fail to meet those scedule to be enacted shortly in Europe.
A new Lambretta scooter was presented at the Indianapolis Motorcycle Dealer Expo in March 2005 heralding a new age for the other classic Italian brand. To be manufactured by CMSI in North Carolina, they will have the classic Lambretta look of the 60s but a new four-stroke engine. Lambretta and Vespa are back in business.
Is classic design, image, and tradition -- a bigger factor than cost in determining what scooter to buy? That is a matter of debate. See Recommended Scooters. There are many modern high-quality classic-design scooters available now for very reasonable prices. See Classic Scooters.
For further reading, the classic scooter phenomenon is nicely covered in the student essay: Scootering in style: Vintage Italian motor scooters are hot By Karen Sloan.